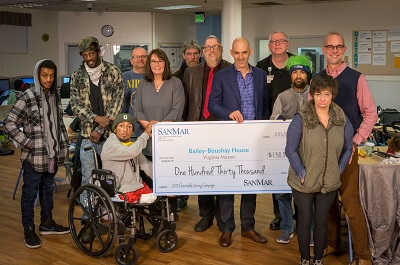 When the team from the SanMar Corporation heard Brian Knowles speak about Bailey-Boushay House's work, they were eager to support our organization. That's why the Issaquah-based supplier of uniforming apparel and accessories made BBH the beneficiary of their employee giving campaign last year.
"When Brian talked to us about Bailey Boushay's work and the community they serve, everyone was engaged with his message and moved by Bailey's impact," says Jennifer Larson, SanMar's vice president of human resources.
Employees from across SanMar — even those who work in other states — donated to this campaign, resulting in a generous gift to BBH. One employee, who is also a talented magician, was so moved that he volunteered to host a magic show at BBH.
"One of our company values is doing the right thing," Jennifer says. "With Bailey-Boushay House, Virginia Mason saw a need when there was a huge fear and stigma surrounding HIV/AIDS in the 1990s, and stepped in to help. They did — and continue to do — the right thing, no matter what. That's why we support them."